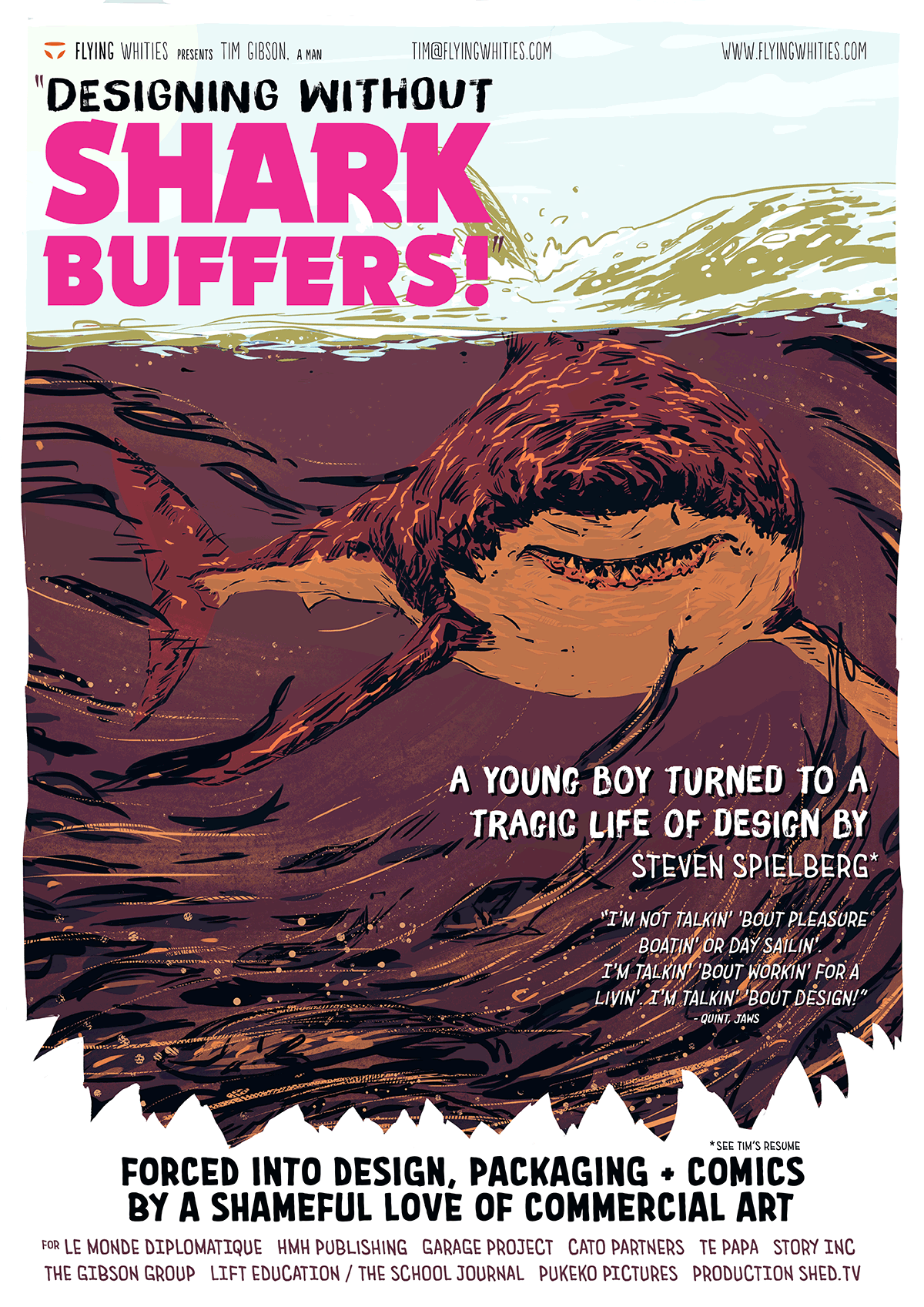 Flying Whities Ltd is a small design studio focused on high-impact Packaging Design, Illustration and Animation. Founded by Tim Gibson, Flying Whities draws on Tim's pool of talented mega-illustrators, as well as his skills for storytelling and design that he picked up in the film industry. Tim is currently a contract Creative Director at
Garage Project
and helps them and other Craft Breweries and Cidermakers get their liquid or brand in the best package possible.
Nine-year-old Tim got an A+ for his crayon covered assignment on Steven Spielberg's 'Jaws.' Years later he still refuses to swim in the ocean without friends ('shark buffers' as he thinks of them) & remains obsessed with commercial art that causes such visceral reactions.
Tim worked for Spielberg years later (as a Concept Designer on the animated Tintin film) but only after he took his crayon skills and dove head-first into commercial illustration and design. He comes up for occasional animation work, and still has both his legs, despite writing his own Graphic Novel.
Grown-man Tim has provided illustrations, design & animation for the best in the international entertainment & publishing industries via clients like Weta Workshop, Houghton Mifflin Harcourt Publishing, Le Monde Diplomatique, Garage Project, Cato Partners, The Gibson Group, Te Papa, Story Inc, Lift Education, The New Zealand Film Commission, Pukeko Pictures & Production Shed.tv
He continues to delve the depths, including his old passion – writing. He received Creative New Zealand Literature Funding to write & illustrate a digital Graphic Novel titled 'Moth City' – a tale of cowboys, communism and carnage. It was named one of Comixology's 'Comics of the Year,' and has been widely praised for in innovative storytelling. You can sample it at
MothCity.com
or free via
Comixology
.
Tim loves to chat about writing (third person or otherwise), animation, art direction, visitor attraction concepts, packaging design and children's publishing.